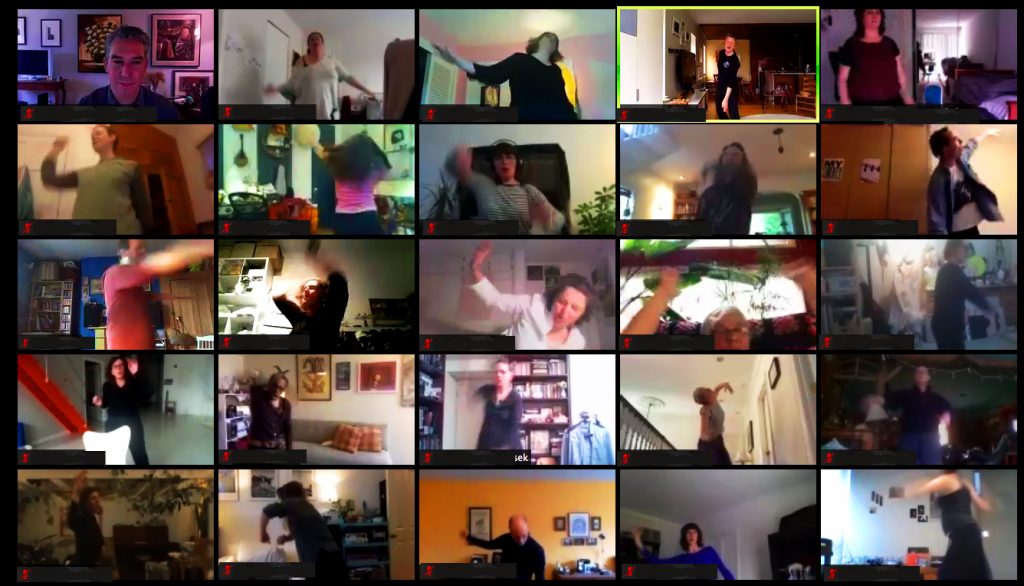 ONLINE ZOOM WORKSHOPS
Since April 2020, we have moved all of our workshop offerings onto the Zoom platform, in response to the current pandemic. It is our hope that this online platform can help to feel a sense of solidarity within a more global community, maintain a connection to and fortification of your voice and body during these challenging times, and serve as an act of self-care.


DANCING VOICE/SINGING BODY
Fall 2021 – New offerings with members of Meredith Monk & Vocal Ensemble! Each session is led by a different facilitator for 1 1/2 hours.


Sundays from 1pm-2:30pm (ET / New York time):


October 17
Katie Geissinger will lead a vocal warm-up focusing on relaxation, breathing, flexibility, ease of production, and expressivity, including exercises exploring the voice-body connection. She will work with passages from Meredith's repertoire. Absolutely all are welcome, but this workshop will be tailored to those with some vocal experience.

October 24
Janis Brenner's session will include a brief physical warm-up incorporating breath, a vocal warm-up with the teaching of a song, and a character study through voice and movement based on transformation.

October 30 (no workshop due to Halloween)

November 7
Paul Langland will lead a movement and sound warm-up leading into deeply connective dance and song improvisations based on the company repertoire.

November 14
Lanny Harrison will focus on shape-shifting and transforming characters in changing landscapes and environments within solo forms, working predominantly from a movement base. She will also touch on how mindfulness/awareness practice and meditation can inform all theater work.

November 21
Allison Easter will focus on movement integrated with singing, offering a movement warm up influenced by Laban/Bartenieff, Monk repertory and creative work to improve clarity, strength and expressiveness in the body.

We hope you'll take advantage of these unique offerings, sharing different exercises and perspectives related to Meredith's development of the Dancing Voice/Singing Body.

To register for a workshop, please fill out the form below or click HERE.


A $15 donation is suggested per session and can be made using the button below. We appreciate your contribution at any level.